Brooklyn-based artist Anne Gilman will be having a one-person show in its Robinson Gallery at Birmingham Bloomfield Art Center from September 7 – October 11, 2018.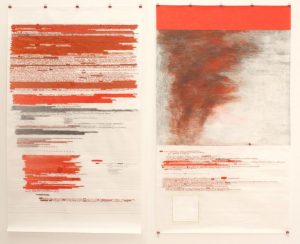 Up close / in the distance / now will include six large-scale scroll drawings among a total of 19 works that hang on the wall, lie on the floor and suspend from the ceiling. Her extemporaneous writing is combined with labor-intensive drawing as a means of processing information from both a verbal and nonverbal perspective.
For further information, visit the Birmingham Bloomfield Art Center
If you're in the Detroit area, please stop by!