DUMBO artist, Chantal Calato's sculptural installation, Mount Cecos highlights the contamination of surrounding land from the landfill site managed by Cecos International, Inc. in Niagara Falls
● The exhibition opens on June 8, 2019, 7-11pm at BOX Gallery in Buffalo, NY and runs through July 21, 2019.
● The installation entitled Mount Cecos is named after the landfill in Niagara Falls managed by Cecos International, Inc.
● The 14-foot sculpture is made entirely of trash and includes tens of thousands of blades of hand painted grass to highlight the impact runoff from hazardous waste sites such as CECOS International Inc. has on surrounding land and communities.
Environmental artist Chantal Calato will debut a sculptural installation entitled Mount Cecos at the BOX Gallery in Buffalo, NY on June 8, 2019. The exhibition will run from June 8 - July 21, 2019, in Buffalo, New York and is named after the Niagara Falls landfill built and run by Cecos International, Inc . which manages on-site hazardous waste cleanup designated by the Environmental Protection Agency.
Calato's 14 foot Mount CECOS sculpture is a tabletop version of a landfill, painstakingly built from real garbage and tens of thousands of blades of painted, synthetic grass. The landfill sits in the basin of an old sink used to process photos with chemicals which Calato had originally used to build her own darkroom in 2004, because of her decision to reduce her exposure to chemicals. The installation shows massive drain pipes protruding from the bottom of the sink, illustrating the chemicals, waste, and smells which are continually leaking into the surrounding land and communities around the Mount CECOS landfill.
The site of CECOS International, Inc has been a dumping grounds since the late 1800s. It straddles the Town of Niagara and the City of Niagara Falls. Sanitary Landfill No. VI built in the 1980s is the tallest of the 12 landfills on the site and the highest elevation in Niagara County at 699 feet above sea level.
"The locals in Niagara Falls call the landfill, Mount CECOS because it can be seen from locations in the city including schools, the outlet mall, golf course, and the grocery store. It has slowly started to define the city," said Calato. "Cecos International, Inc. isn't your typical landfill because it's where thousands of tons of hazardous waste from 'Superfund' cleanups are dumped. And in recent years the landfill has been emitting a toxic odor that carries through the community. I wanted to spotlight the unchecked management and contamination of these landfills on our environment."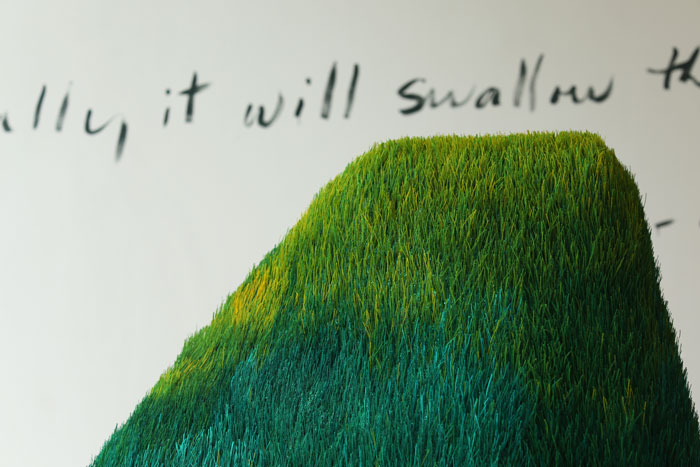 Mount Cecos – a tabletop version of a regional toxic landfill on Buffalo Rising
About Chantal Calato
Calato's work explores the mutilation that humans have caused to our environment through multimedia installations. Calato grew up in Niagara Falls near the environmental disaster of Love Canal which has become a driving inspiration behind all of her work.
Calato lives and works in NYC. She recently received the Global Warming Art Project grant which is supported from donations from Ben Perrone and the 'Environment Maze' project and administered by Arts Services Initiative of Western New York to fund her largest installation to date UNSEEN will open in 2020 at the Burchfield Penney Art Center . Her website can be found at here